June 1 Marks the Start of a New Year in PJM Capacity Markets and an Abrupt 70% Drop in FirstEnergy's Revenues on Selling Generation Capacity from Its Sammis and Davis-Besse Power Plants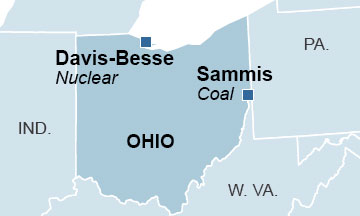 It came as quite the paradox when CEO Chuck Jones announced in April that the company's Sammis and Davis-Besse plants had  "contributed to" first-quarter earnings.
After all, FirstEnergy had been trying to get Ohio state officials to go along with a consumer-financed bailout of these failing assets—all part of a corporate scheme our research has shown would cost ratepayers $4 billion. The premise of the FirstEnergy bailout proposal, which federal regulators recently put on hold, is that outdated generators like the coal-fired Sammis and the nuclear-powered Davis-Besse are losing money because they can't compete anymore.
If these two plants did indeed "contribute to" FirstEnergy earnings, it was only from FirstEnergy selling their capacity at inflated prices into regional markets.  And that ends today.
Here's why (it's complicated but not that complicated).
FirstEnergy does business in a regional electricity market known as PJM (whose northern Ohio area is called the ATSI zone). PJM operates a forward-looking 13-state "capacity market" from the mid-Atlantic to northern Illinois designed to assure enough power-generation reserves are available if some plants unexpectedly go out of service or in the event that grid loads are higher than expected.  To do this, PJM holds an annual auction in which power-generation owners bid to provide capacity in a "capacity year" that runs for 12 months—from June 1 to May 31—three years down the road.  Three years ago, in the spring of 2012, FirstEnergy bid the capacity from its generating units into the PJM auction for the 2015-2016 year that began on June 1, 2015, and that wound down yesterday.
The difference between FirstEnergy's capacity revenues from its generating units yesterday and today is astounding.
The capacity price set for the ATSI zone through the 2012 auction was extremely high: $357 per megawatt-day (MW/day)—more than 180 percent higher than the $125.99 price awarded in the year before. The difference has been attributed to FirstEnergy's manipulation of the auction for the 2015-2016 capacity year by failing to bid all of its energy-efficiency capability into the system. Had it done so, the resulting clearing price would have been up to $150 per MW/day lower, according to testimony submitted to the Public Utilities Commission of Ohio. This, incidentally, would have saved ratepayers in northern Ohio approximately $600 million in capacity market payments in the current 2015-2016 capacity-year.
So while FirstEnergy may have logged significant revenues since June 1, 2015, from selling the capacity from Sammis and Davis-Besse into the PJM capacity market, a new day and a new price dawns this morning.
Today—June 1, 2016—begins PJM's 2016-2017 capacity year in which the price paid generation owners in PJM's ATSI zone in northern Ohio, set three years ago at auction, will drop instantly by almost 70 percent, from $357 to $114.23 per MW/day.  The difference is simply the result of more competition, a trend that affects the balance between the supply of capacity that is bid in the PJM auction and the projected power demands.
This change will severely reduce, if not eliminate, any supposed earnings contributions from the Sammis and Davis-Besse plants.  And it will make these units, along with similarly uncompetitive plants in PJM, even less financially viable than ever.
David Schlissel is IEEFA's director of resource planning analysis.
Related posts:
FirstEnergy Throws a Hail Mary Pass in Its Campaign to Keep Aging Power Plants Alive
FirstEnergy Brings Its Bailout Show Back to West Virginia
Ruling Is a Giveaway to FirstEnergy and AEP, and a Betrayal of Ratepayers