IEEFA conference gathers leaders and experts from across sectors to explore energy transition
IEEFA's Energy Finance Conference 2021 kicks off Monday June 14th at 1:00 pm EDT with a keynote presentation by Michael Liebreich, Chairman and CEO of Liebreich Associates (and founder of New Energy Finance, now Bloomberg NEF). Moderator: Sergio Knaebel, Sandler Foundation
The conference is being held online during the weeks of June 14 and June 21, 2021.  We are bringing together energy and financial experts, community leaders, environmental advocates and attorneys, investors, philanthropists, and journalists to explore the latest advances in the global energy transition.
Featuring:
Eight one-hour sessions on key topics, with speakers and live Q & A sessions [held at 1:00 pm EDT Monday-Thursday].
Four short films on individuals and organizations whose work is accelerating the energy transition in communities around the world.
Informal "side meetings" with discussions on popular topics suggested by registrants and IEEFA's network.
Register now: bit.ly/IEEFA2021, it's free!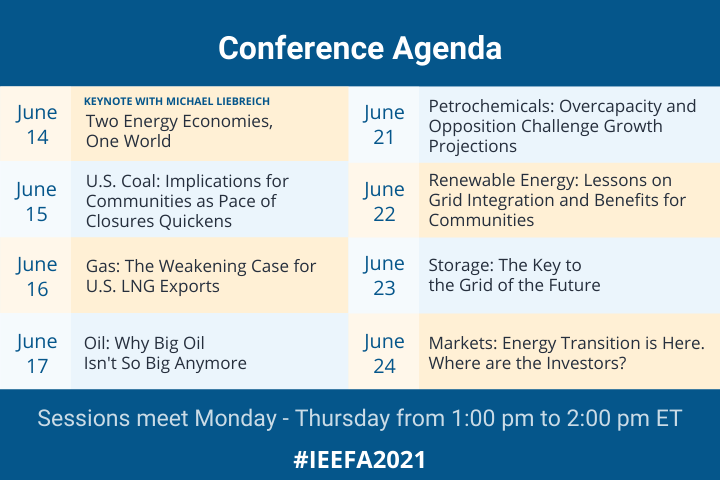 Media contacts
Vivienne Heston ([email protected]) +1 (914) 439-8921
Muhamed Sulejmanagic ([email protected]) +1 (313) 246-4547
About IEEFA
The Institute for Energy Economics and Financial Analysis (IEEFA) examines issues related to energy markets, trends and policies. The Institute's mission is to accelerate the transition to a diverse, sustainable and profitable energy economy.

#IEEFA2021