Latest draft power development plan puts clean energy transition at risk by sacrificing renewables for more coal
29 September (IEEFA Vietnam): In the lead up to the United Nations Climate Change Conference COP26, President Xi Jinping recently declared that China will no longer build new coal-fired power projects abroad. Despite limited details, the ramifications of China's coal exit strategy for coal-centric developing economies like Vietnam could be immense.
The ramifications of China's coal exit for coal-centric developing economies could be immense
Before President Xi's announcement, Vietnam's latest draft Power Development Master Plan 8 (PDP8) was released, and in a surprising shift, proposed to raise the installed capacity target for coal-fired power by 3 gigawatts (GW) to 40GW by 2030, with an additional (and final) 10GW to be deployed by 2035.
According to the latest report from the Institute for Energy Economics and Financial Analysis (IEEFA), to make room for this pivot back to coal, the planners sacrificed 6GW of wind power expected to come online by 2030. Offshore wind was removed entirely from PDP8's base case scenario.
"The development marks an unexpected turn of events for a country that commentators agree is poised to benefit from the investment needed to drive down the cost of industrial-scale renewables," says report author Thu Vu.
"Instead, insiders have reverted to a baseload-heavy coal strategy despite increasing funding and project implementation risks."
Between 2016-2020, coal power project sponsors delivered only 52% of the capacity expected in the master plan, undermining the security of the power supply for Vietnam's fast-growing economy. For Vietnam's energy planners, the lessons from this mistake are still fresh.
Of the 30GW of coal-fired power in the pipeline, IEEFA estimates less than 12GW are realizable capacity
"This naturally raises questions about how Vietnam's top decision-makers are reading technology and financing trends that are now shaping power markets, especially after China's recent announcement that it will no longer finance overseas coal-fired power projects," says Vu.
"By opting to push ahead with an expanded coal power pipeline, Vietnam risks shunning globally recognized clean project sponsors who have credibility in delivering cost-competitive projects."
Vietnam's energy planners may have underestimated the strategic impact of the sector's reliance on overseas financing and the trends reshaping global capital flows. Any plan to launch an aggressive build-out of new coal power will feel the impact of policy shifts. This includes the cut-off of access to capital for new coal power projects that previously turned to Asian and North American governments and banks for financing.
Based on this change in capital market lending habits, the forecast coal capacity expected to come online in the draft PDP8 seems unrealistic.
Of the 30GW of coal-fired power in the pipeline, IEEFA estimates only less than 12GW are realizable capacity because they represent projects already under construction or have reached financial close.
The remaining nearly 19GW will face the test of more climate-conscious investment mandates that global investors and governments have recently implemented.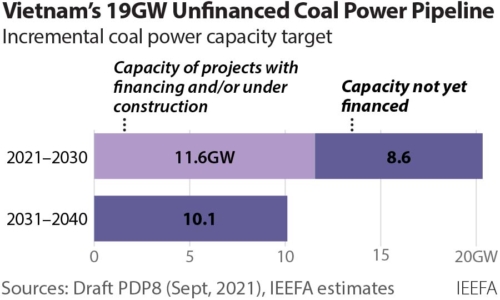 The exodus of Japanese and South Korean export credit agencies and major banks from coal financing poses a particular challenge to Vietnam's new ambition to continue seeking finance for coal deals that conflict with carefully monitored public commitments.
"Similar to other coal-centric developing economies, Vietnam's coal power fleet is heavily exposed to a handful of financing sources," says Vu.
"The governments of Japan, South Korea, and China, via their export credit agencies and policy banks, have facilitated state-guaranteed credits to coal power projects in Vietnam to support their equipment suppliers and contractors.
"Public finance has been vital for de-risking projects, enabling them to crowd-in commercial finance they would otherwise struggle to secure."
Vietnam's coal power fleet is heavily exposed to a handful of financing sources
A review of 12 coal power projects concluded that financing arrangements between 2015-2021 alone suggest that ten of them are backed by public financing from Japan, South Korea and China. This is irrespective of the project's sponsor and ownership.
China's announcement is a continuity of recent statements by the Chinese government, which already pointed to a policy shift away from environmentally harmful projects, more emphasis on green investments, and better alignment with international standards.
Central government planners are now more focused on new markets for China's cost-competitive renewables equipment providers. Data has shown that China's overseas coal project investments have been shrinking since 2015, with no new investment in the first half of 2021.
In July, China's largest bank, the Industrial and Commercial Bank of China (ICBC), announced its withdrawal from a USD3 billion coal power project in Zimbabwe, marking the first time that a Chinese bank has proactively walked away from a coal power project.
Several high-profile projects in Vietnam could see their fates put at risk by such a movement, including Nam Dinh 1, Song Hau 2, An Khanh Bac Giang, Cong Thanh, and Vinh Tan 3. These projects are still at the pre-investment phase, but with previously confirmed backing from Chinese banks or sponsors.
While cost pressures are a natural policy concern, the report noted that instead of opting for a baseload-only strategy dependent on more coal power plants, Vietnam should focus on devising policies that would incentivize the market to deliver more cost-competitive renewables.
"For a dynamic economy highly exposed to global investment and consumer markets, Vietnam has a lot to gain by building credibility for its decarbonization effort," says Vu.
"The growing pool of sustainable finance has the potential to unlock the new sources of capital that Vietnam needs to scale-up renewable energy and grid infrastructure to generate reliable and affordable electricity."
Read the report (in English): Vietnam's PDP8 Signals Policy Confusion About the Economics of Coal
Read the report (in Vietnamese): Quy hoạch điện 8: Cần thận trọng với kỳ vọng về nguồn vốn cho điện than
Media contact: Paige Nguyen ([email protected]) Ph: +61 433 048 877
Author contact: Thu Vu, Energy Finance Analyst ([email protected])
*Author is available for media interviews and background briefings*
About IEEFA: The Institute for Energy Economics and Financial Analysis (IEEFA) examines issues related to energy markets, trends and policies. The Institute's mission is to accelerate the transition to a diverse, sustainable and profitable energy economy. (www.ieefa.org)