The CEO of Murray Energy Was Different, or So It Seemed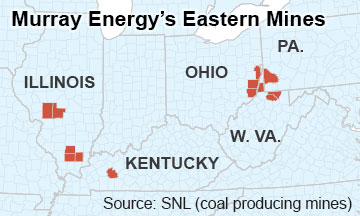 The news that Murray Energy, the largest privately held coal producer in the U.S., is considering laying off 80 percent of its workforce shows that even coal executives who preach the gospel of "change or die" cannot save an industry crumbling against competition from renewable energy and natural gas.
CEO Bob Murray is pretty much the last coal boss standing. Executives at every other major U.S. coal producer preside today over bankrupt companies. These captains of industry drove their firms into the ground because they could not or would not acknowledge what is happening in energy markets.
Murray was different, or so it seemed.
"I don't think it will be a thriving industry ever again," he said just a few weeks ago in an interview with S&P Global Market Intelligence. "The coal mines cannot come back to where they were or anywhere near it."
Murray—to his credit and largely alone among industry leaders—had said it repeatedly before. Last fall at a Platts-sponsored conference, for instance, he argued that those who failed to acknowledge what was happening were simply fooling themselves.
And he was right. Times and energy markets have changed; the coal industry has not.
INDUSTRY LEADERS HAVE BEEN ESPECIALLY NEGLIGENT IN THEIR RESPONSIBILITIES TO THE WORKERS AND COMMUNITIES FROM WHICH THEY HAVE REAPED SO MUCH OVER THE YEARS. This is where Murray is acting like all the rest.
Responsible leadership would have long ago advocated for industry-government-community partnerships to look out for coal-industry employees—to make sure payrolls were not missed, to make sure pensions were secure, and to make sure that a good life was possible after coal.

Responsible leadership would have meant taking lessons from the history of a great country in constant flux and finding a way forward that was not limited merely to throwing workers to the wolves and walking off with the wealth.

Responsible leadership would have recognized the opportunity to build honest transition plans like those that were formed to support economic revivals after military bases closed and when the tobacco industry contracted.
Murray Energy has not delivered on these crucial points. It does not support a new tomorrow for southeastern Ohio, northern West Virginia, southwest Pennsylvania or anywhere else it does business.
Bob Murray, known for and proud of his hard-earned success, appears to be making an unseemly exit now at the cost of rank-and-file American coal workers. It does nothing to burnish Murray's image—however that image is perceived—and is nothing to be proud about.
RELATED POSTS:
Peabody, a Lost Former Leader, Misses the New-Energy Boat
Wyoming's Coal Miners Are Worthy of Better

Appalachia Needs More Than the Sound and Fury of the 'War on Coal' Canard