Consumption Down 5% in 2015 as Electricity Demand Slows; 35% drop in Coal Imports; Damage to Seaborne Thermal Markets
China has just reported electricity demand growing by a scant 0.5 percent year on year to 5,550TWh in calendar 2015, the slowest rate of growth since 1998. Accompanied by a significant increase in non-thermal electricity generation (nuclear, hydro, wind and solar), coal-fired power generation declined by an estimated 4 percent and coal consumption is estimated to have fallen 5 percent, building on the decline reported in 2014.
With declining coal consumption, China has moved to protect domestic production by cutting imports. Figures out last week confirm coal imports declined 30 percent year over year from January through December.
With the collapse in both Indian (down 34 percent year over year) and Chinese (down 35 percent) coal imports, the seaborne thermal coal industry is now entirely beleaguered.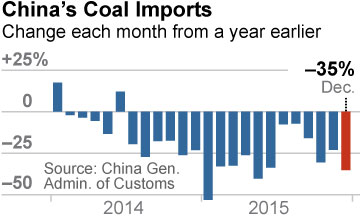 This telling import data confirms that the last flicker of hope for a recovery in seaborne thermal coal markets has been snuffed out. Among those affected: Australia's Galilee Basin, where Adani had hoped to build a massive coal-mining complex. It also carries enormous negative implications for Indonesia's coal export market, given the concurrent collapse in Indian demand.
Within the overall Chinese electricity sector's 0.5 percent growth, heavy industry's consumption fell 1.9 percent over 2015. In contrast, service sector electricity consumption grew 7.5 percent and household consumption grew 5 percent. These numbers illustrate the rate at which the economy continues to transition away from heavy industry. The decoupling of economic growth and electricity demand is a key driver of this Chinese energy transformation.
Coal consumption per kWh thermal power generated fell 1.3 percent year over year, maintaining a decade-long improvement in average thermal power plant efficiency gains.
THIS DATA POINT UNDERLINES A SIGNIFICANT DECLINE OF TOTAL COAL CONSUMPTION IN CHINA, with IEEFA estimating a reduction of 5 percent year over year in volume terms, an acceleration of the 2.9 percent decline in coal consumption reported for 2014.
Data from the China National Energy Agency confirms that the country is successfully diversifying away from thermal power generation at a far-faster-than-expected rate. Wind, solar, hydro and nuclear continue to gain share at coal's expense, consistent with a trend established in 2011.
Thermal power capacity utilization fell by 9 percent year over year from 54.1 percent in 2014 to 49.4 percent in 2015, the lowest number on record and the first time utilization has fallen below 50 percent, as 64GW or more of effectively idle thermal power generating capacity was added (an addition that makes no sense, given China's increasingly diverse energy mix).
IEEFA forecasts that China will install an additional 24 gigawatts of wind, 16GW of new hydro, 6GW of nuclear and a new record of 18GW of solar (60 percent utility scale, 40 percent distributed rooftop solar) in 2016. With the country's larger economic transition continuing, electricity demand is forecast to grow only 3-4 percent in 2016; this 64GW of additional zero carbon electricity capacity will be more than sufficient to meet total demand growth.
As a result, the decline in China's coal production of 2014 and 2015 is expected to continue into 2016. The China Academy of Sciences expects coal production to fall another 4 percent in 2016 to 3.6 billion metric tons, down from an estimated 3.76 billion in 2015. The Chinese Coal Association and National Energy Administration likewise both forecast a further decline in 2016, which would mark the third straight year of decline, again reinforcing that peak coal was passed in 2013.
Consistent with this trend the head of China's National Energy Agency in late December announced that China will not approve any new coal mine projects for the next three years and will close down a thousand small mines.
The implications of these changes are huge: China's total country emissions are on track to peak potentially a decade earlier than their official target of no later than 2030.
This shift in China comes at the same time the U.S. reports a 10 percent year-over-year decline in coal consumption in 2015 (and down already a staggering 29.7 percent so far in 2016) in addition to a three-year moratorium of new federal coal leases. At the same time, India is pursuing a program to install 175GW of renewable energy by 2021-22 and rapidly improve grid efficiency.
So the world's three largest economies are moving rapidly and in concert to exceed the COP21 Paris agreement.
Meantime, Bloomberg New Energy Finance reports that China's new investment in renewable energy and energy efficiency rose 17 percent in 2015 to a record US$110 billion, almost doubling the U.S. spend of US$56 billion (up 8 percent year over year).
The net economic and social benefit of this electricity market transformation is abundantly clear.
One marker of progress: The International Renewable Energy Agency over the weekend released new calculations that show the macroeconomic impact of doubling the use of renewable energy by 2030 would lead to a 1.1 percent increase in global GDP. That equates to a global economic boost of US$1.3 trillion.
Tim Buckley is IEEFA's director of energy finance studies, Australasia.