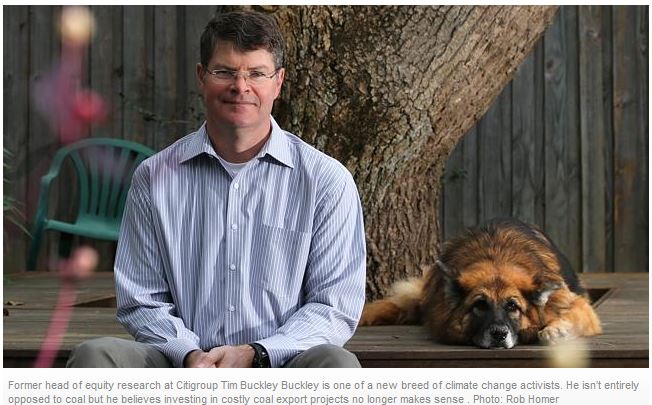 Jamie Freed and Nassim Khadem, The Financial Review – MELBOURNE  –   "Meet the new face of anti-coal activism. Tim Buckley, a former head of equity research at Citigroup, once spent his days modelling conglomerates like Wesfarmers, which has a coalmining business. Now he works for the US-based pro-renewable energy group Institute for Energy Economics and Financial Analysis. One of his projects is demonstrating why spending $40 billion on coalmines and infrastructure in Queensland's Galilee Basin doesn't make financial sense.
His aim is to convince superannuation funds, lenders and governments that funding infrastructure for the projects would be a bad long-term investment and they should focus on energy sources with more promising futures, such as solar and wind.
'Part of the reason I'm doing the job I'm doing is because I've been on the buy side and the sell side and I speak the same language as the finance people and I know how they think,' the ­Sydney-based analyst says. 'Whereas if you get a greenie in the room, they are probably going to talk a completely ­different language to someone who is financially oriented.'
Buckley is one of a new breed of ­climate change activists. Former US Treasury secretary and Goldman Sachs chief executive Hank Paulson, former New York City mayor Michael Bloomberg and the retired founder of Farallon Capital, Tom Steyer, have formed Risky Business, which will this week release a report designed to ­influence business decisions about the risk of not taking the prospect of unmitigated climate change seriously.
Buckley isn't entirely opposed to coal; he believes it has a role to play in developing countries like India where it is a low-cost energy source. But he believes the world is moving toward a lower carbon economy and investing in costly coal export projects no longer makes sense…."