The Challenge Now Is to Find Common Ground Culturally and Regionally
Earlier this month, the Environmental Protection Agency released the final version of its rule to limit carbon dioxide emissions from existing power plants. It's not a perfect rule, and there's a long road ahead that is likely to include litigation and implementation challenges. But the rule, often referred to as the Clean Power Plan, is a huge achievement even with its limitations.
In the aftermath of the release of the rule, I—probably like many readers—received email messages from supportive environmental groups warning about the political power of opponents to the rule. Several messages fretted specifically over the power of Big Coal to use its lobbying muscle in state legislatures, including in my home state of New York, to prevent implementation.
Any number of road blocks may pop up as implementation proceeds. The rule is complicated and will most likely be litigated every step of the way. Some states will refuse to submit compliance plans; others may come up with ones designed deliberately to thwart the intent of the rule.
But I think it's a mistake to worry too much about the presumed might of Big Coal, which in truth isn't all that big anymore. Even with the recent uptick in stock prices for several coal companies, coal companies—and the stocks of those companies—have taken a terrible beating over the past few years. It's worth noting that this beating has happened despite the fact that the coal industry and its allies participated in a successful campaign to prevent enactment of federal climate legislation in 2010 and were largely successful in their electoral efforts to determine the composition of Congress. In other words, they're getting a lot of what they want, but it's not helping them much.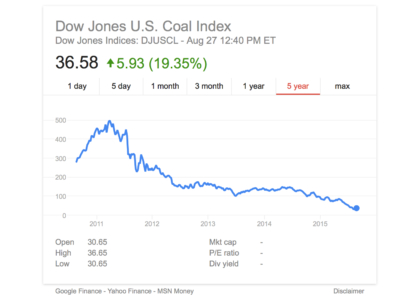 AT THIS WRITING, PEABODY ENERGY, WHICH CALLS ITSELF "THE LARGEST PRIVATE-SECTOR COAL COMPANY IN THE WORLD," HAS A MARKET CAPITALIZATION OF ABOUT $417 MILLION, Arch Coal's market cap stands at $92 million, Cloud Peak Energy's at $203 million. CONSOL Energy's is bigger, at just over $3 billion, but that's mostly because it has turned itself, in part, into a natural gas company—and CONSOL has still lost about 70 percent of its value just over the past couple of years, while Peabody and Arch stock prices have dropped by 95 percent and more than 99 percent respectively since 2010. Meantime, other former players of substance including Walter Energy, Alpha Natural Resources and Patriot Coal have all filed for bankruptcy.
Compare the size of coal companies today with truly successful enterprises. Apple's market capitalization is $603 billion. Google's is $420 billion. Exxon Mobil's is $301 billion. These are very big companies indeed with the ability today to throw their weight around. The power of Big Coal, by contrast, now is largely a vestige of a bygone era and something of a myth sustained by our collective belief that it is still big. That perception is wrong, and all of us who work for the transition to a cleaner-energy economy should change our tune on this point. To some extent, this means changing our strategy.
Big Coal's decline is an indication that whatever power it retains is not based fundamentally either on its size or its expenditure of money. In fact, the assets of some environmental groups are now comparable to or even greater than the market capitalization of coal companies. So what gives?
I think coal remains of special cultural significance in Appalachia and several other parts of the country. In some places, coal mining has gone on for generations and constitutes an important part of strongly-held personal and regional identities. The industry's cultural importance makes it far more important in the politics of these regions than one might believe based solely on its size.
DESPITE IMPORTANT STRIDES IN RECENT YEARS, THE ENVIRONMENTAL COMMUNITY IS STILL LARGELY AT A LOSS IN GRAPPLING WITH CULTURAL ISSUES. It can still be too easily caricatured as an overwhelmingly small elite group based largely in the Northeast and on the West Coast. This caricature can be seen in personal attacks on Michael Bloomberg and Tom Steyer.
I'm not so sure how to deal with the delicate cultural importance of an industry that seems to be in a state of economic decline, but I have a few ideas:
First, it's important for local voices in places like Appalachia and the Powder River Basin (of Montana and Wyoming) to be supported nationally for their leadership in the environmental movement. That requires that groups based in Washington or New York exercise some restraint. I'd rather see a rancher in Wyoming quoted in national news outlets supporting the Clean Power Plan than see one of my colleagues from a large environmental group quoted.
Second, environmentalists need to focus on how transform the economies of regions and communities that are already being damaged by the decline of the coal industry. If the only loud voices discussing the impact of this decline on these communities are the Mitch McConnells of the world, our ability to succeed will be limited.
Finally, environmental leaders in the Northeast and the West Coast should look honestly at their own cultural prejudices. Plenty of the people with whom we need to align are religious, they like to hunt, and they are part of the car culture that dominates all of America. Those of us who are secular, gun control supporters who would prefer to ride bicycles or take mass transit ought to make sure that these preferences don't affect our ability to coalesce with people who are embedded in cultures different from our own.
This is a very big and very complicated country. And while some habits and traditions can change very quickly, others will not.
Big Coal doesn't exist anymore, so let's not spend our time attacking imaginary opponents. Let's explore the vibrancy instead of the cultural heritage of which Big Coal is a part. Let's figure out how to work with the broad range of Americans from our broad range of cultures. It's our only hope.
Larry Shapiro is associate director of the Rockefeller Family Fund and president of the board of directors of the Institute for Energy Economics and Financial Analysis.