Author Archive: Arjun Flora
Director, Energy Finance Studies, Europe, Arjun Flora is a UK-based analyst focused on the energy transition in Europe. He has worked in energy technology investment banking at Alexa Capital and Jefferies in London, and holds a Masters degree in Engineering from the University of Cambridge.
Ekonomia, ambiciet për anëtarësim në BE drejtojnë nga burimet e ripërtëritshme si rruga më e mirë për nevojat e ardhshme të energjisë për vendin.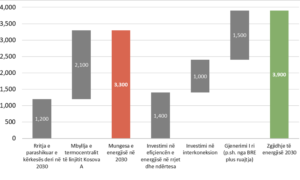 29 tetor 2020 (IEEFA) – Performanca e mirë nga fermat e para të erës dhe diellit në shkallë të gjerë në Kosovë tregon se vendi i Ballkanit Perëndimor i dominuar nga qymyri mund të shfrytëzojë rënien e kostove të ripërtëritshme dhe gatshmërinë për kredi të gjelbëra për tu lidhur më mirë me një tranzicion evropian […]