February still has an entire week left but the understatement-of-the-month award has to go to Kevin Crutchfield, the chairman and CEO of Alpha Natural Resources.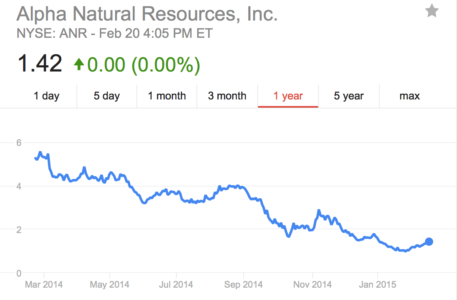 "Yet again a challenging year for the coal industry," Crutchfield said when the company came out with its grim fourth-quarter and full-year financial results for 2014.
"Challenging" is a nice word for "dire." Alpha's numbers chronicled a bad year indeed, and the company's forward-looking guidance indicated little likelihood of recovery in 2015.
To review:
The company posted a loss of $875 million last year, an improvement over 2013's loss of $1.1 billion, but still its fourth consecutive lost year.
Its coal revenues declined as the price per ton of coal dropped in all three coal-market segments: Eastern metallurgical, eastern steam and western Powder River Basin. The company mined less coal in 2014 than it did in 2013.
Its long-term debt increased by $320 million (this at a company with a market capitalization this past Friday of $314 million).
Alpha's cash position did improve at year's end by a little over $100 million, but it was mostly from a one-time infusion from a $257 million asset sale. While the company had $1.15 billion in what it categorized as liquid assets on Dec. 31, its presentation of this number was pumped up some by its $127 million equity stake in a shale-gas venture.
The company projects it will mine from 69 million to 80 million tons of coal in 2015, down from 84.5 million in 2014. It will also , and will further reduce costs, mostly in its Central Appalachian steam coal holdings, as the domestic market for this coal continues to decline in the face of low natural gas prices.
None of these trends is likely to change substantially in 2015. Revenues will probably be eroded further this year, as there is little indication of a price pickup. The company badly needs an increase in the price of metallurgical coal, but it's probably not going to get one (last week Goldman Sachs lowered its outlook on the price of metallurgical coal through 2016). Company liquidity will likely be pressured by the fact that Alpha must pay off a $154 million note.
The company could see its shale-gas venture start drilling in 2015, depending on the prices for natural gas—which are now low—but this initiative won't do much for the company's finances.
So a fifth year of losses is likely.
Alpha is responding to this likelihood by reducing capital expenditures, and it may also close more mines, continuing a trend established over the past few years. It might even be in the market to sell some of them, looking for a reasonable deal even in these tough times.
The company has $3.9 billion in long-term debt and faces looming payoffs over the next several years. How it will approach this future after a long period of poor financial performance and limited outlook remains to be seen.
What's certain is that Alpha Natural Resources typifies the general market trend for the U.S. coal industry—shrinking with little upside potential.
Tom Sanzillo is IEEFA's director of finance.