Markets Are Changing; the Media Is Catching Up; Renewables Account for 20% of Total Generation in Latest Data Snapshot
What feels sometimes like a reluctant transformation is taking hold in the emergence of a "when" rather than "if" media narrative on the rise of renewable energy.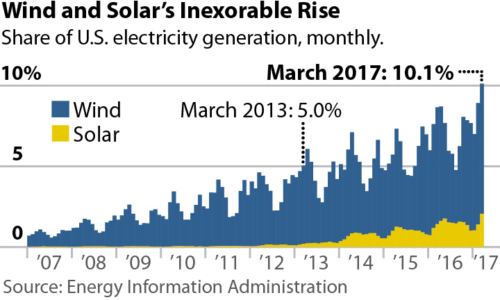 This awakening is especially noticeable in the financial press, which can often seem captive in a historically entrenched way to the very financiers or industries it covers.
Myopia can and does set in among all kinds of beat journalists, whose perspective can be distorted by reliance on a shared, sometimes blinding point of view. Witness the dog-pack U.S. political reporting last year that completely missed what was about to happen in the presidential election. Think back to the housing meltdown of 2007 and the subsequent market crash and financial crisis of 2008—where were the investment columnists in the lead-up to that?
The energy-transition story unfolding today is doing so within a window of time that is less compressed than a presidential campaign or a housing-price bubble. So, thankfully, reporters have time to get their heads around it and develop an accurate narrative that isn't outrun by an abrupt denouement.
Examples? Three from this week come to mind.
The Wall Street Journal, the U.S. investor-class paper of record and the biggest American newspaper by circulation, carried a beautifully explanatory story on how Total SA, a big oil company, is looking past oil now and angling to become an electric company instead with 20 percent of its business by 2035 in wind and solar. It included a passage that may have been jarring to some of the paper's more hidebound readers:
"Producing clean energy was much more expensive in the late 1990s and early 2000s, when oil companies conducted highly public experiments with alternative energy sources. Production costs for solar panels and other renewable energy projects have since plummeted."
The Financial Times, the U.K. investor-class paper of record, published a crisp summation of BP's famous yearly update on global energy data that included this:
"Bob Dudley, BP chief executive, said the 66th edition of BP's annual statistical review of global energy use underlined the transition facing all energy companies. 'The longer-term trends we can see in this data are changing the patterns of demand and the mix of supply as the world works to meet the challenge of supplying the energy it needs while also reducing carbon emissions,' he said."
And National Public Radio, which is not the Wall Street Journal or the Financial Times but is hugely influential with the American political class, aired a piece that was extraordinary for how it advanced the Colstrip, Montana, story.
The town of Colstrip, whose very existence has always depended on coal, has been the subject of countless articles and broadcasts about its dire future. Few have zeroed in, however, as NPR reporter Nathan Rott did on the growing realization in Wyoming that change is coming. The segment, well worth absorbing in its entirety, discusses transition mechanisms as no other press item before it has. The headline on the transcript of the show said a lot:
"Coal Towns Face an Uncertain Future. What Is The Country Obliged To Do?"
This evidence—the three citations here—is anecdotal, but evidence nonetheless of a shifting media narrative.
None of it is fake news.
NOR IS THE LATEST DATA FROM THE U.S. ENERGY INFORMATION ADMINISTRATION, which hammers home how far along the energy transition already is. The agency reports in an update this week that wind and solar in March for the first time accounted for more than 10 percent of U.S. electricity generation.
The update, published Wednesday, said April would probably see the 10 percent mark passed again. It notes that the summertime number will drop back below that threshold as total electricity demand rises and springtime winds subside, but the pattern that is developing favors more wind and solar.
Ten percent sounds like a small number, but the trend beneath it is weighty.
Only 10 years ago, in March 2007, wind contributed less than 1 percent of all U.S. generation, while solar barely registered, at less than two-one-hundredths of a percent. It wasn't until March 2013, that wind accounted for 5 percent of generation; solar then was still at only two-tenths of a percent. Since then, solar's presence has grown rapidly, including through the installation of solar systems in homes and business, which this past March accounted for nearly seven-tenths of a percent of all U.S. electricity generation. Solar's overall contribution—including in utility-scale plants—stands at 2 percent, representing a tenfold increase in four years.
The growth of wind power has been bigger and broader, as states from Texas to North Dakota engage in a turbine-building boom to harness the rich renewable resource of the Great Plains.
What's most remarkable in the EIA's March figures is just how dominant wind has become in many states. At the top of the list is Iowa, which generated more than 53 percent of its power from wind. In Kansas and Oklahoma, wind accounted for 44 percent of generation. Wind generation in North and South Dakota accounted for 25 percent of total generation; in Texas, Minnesota and Colorado it was more than 20 percent and in Nebraska, Idaho, New Mexico and Wyoming it exceeded 10 percent.
Wind power is making significant contributions nearly everywhere in the U.S. In the Northeast, Maine generated 30 percent of its power from wind in March; Vermont, nearly 17 percent. In the Northwest, Oregon hit 11 percent on the wind meter mix. California approached 10 percent and Hawaii reached nearly 9 percent.
With billions of dollars in new wind and solar projects in the construction pipeline, it seems a certainty that the rise of renewable power will continue, and that more new records will be set.
Not that long ago, any discussion of renewable power data at a national level would have included hydroelectricity. Now, the focus is entirely on wind and solar; the EIA renewables update doesn't even mention hydro. If it did, it would show an even more impressive renewable-power footprint. Conventional hydroelectric power provided a 9.5 percent share of U.S. generation in March, bringing renewable energy's national electricity-generation contribution to nearly 20 percent.
Karl Cates is IEEFA's director of media relations. Seth Feaster is an IEEFA data analyst.
RELATED POSTS:
IEEFA Update: Electricity Auctions Across Major Swaths of U.S. Spell Further Distress for Fading Coal Plants
IEEFA Update: Two Sets of Data Tell the Same Tale: U.S. Coal Industry Continues to Shed Jobs
IEEFA Update: Climate Risk, the Oil Industry, ExxonMobil, Rex Tillerson …