Negligence on the Part of FirstEnergy and the State to Encourage Responsible Transition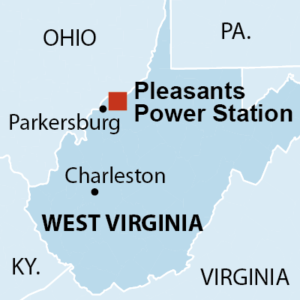 As FirstEnergy prepares to either sell the Pleasants Power Station in West Virginia or deactivate it, the question now becomes whether the company and the state will come up with a good plan to help the local community through this transition.
FirstEnergy's decision on Pleasants comes after the Federal Energy Regulatory Commission rejected its proposal to transfer the plant from its deregulated subsidiary Allegheny Energy Supply to its regulated subsidiaries Mon Power and Potomac Edison.
The West Virginia Public Service Commission approved the transfer, but only if FirstEnergy agreed to bear some financial risk if its rosy economic projections for the plant didn't pan out. FirstEnergy declined to accept the PSC's condition.
The decision by the company to give up on the proposed deal is a tacit acknowledgement of what opponents to the transfer had argued all along—that the coal-fired Pleasants plant is not competitive in wholesale power markets and that transferring it to a regulated jurisdiction (where customers would have to pay the costs of the plant plus providing the company a profit) would be a burden on West Virginia customers. Specifically, David Schlissel, IEEFA's director of resource planning analysis, has calculated that over 15 years, operating Pleasants would cost West Virginia electricity customers $470 million relative to what they would otherwise pay for power.
FirstEnergy's plan was opposed by a broad coalition of organizations—including industrial energy users, consumer advocates, clean energy organizations, several municipalities and environmental groups, all of whom argued that purchasing Pleasants was both unnecessary and costly to West Virginia ratepayers.
WHAT HAPPENS NEXT IS UP TO FIRSTENERGY and the government of West Virginia. The plant employs 211 people and pays $6.5 million a year in state and local taxes, according to FirstEnergy's filings with the West Virginia PSC.
The state at the moment is neglecting its responsibilities. It has yet to acknowledge that coal-fired electricity has become increasingly uncompetitive, nor has it allocated resources toward helping mining and power plant communities transition economically.
It is not an impossible goal. A coalition of labor and community organizations in western New York, when faced with the closure of NRG's Huntley Power Station, came together to develop a plan for transition. Labor, businesses, community leaders, and elected representatives pushed successfully for the New York State legislature to enact a new law that provides several years of replacement property taxes to affected communities. In Washington State, a legal settlement on a utility commission proceeding resulted in Puget Sound Energy, the largest co-owner of the Colstrip Power Plant in Montana, paying $10 million to the Colstrip community in preparation for the planned retirement of two generating units at the plant.
Similar initiatives are needed now to prepare for the potential closure of Pleasants.

Cathy Kunkel is an IEEFA energy analyst. 
RELATED ITEMS:
IEEFA West Virginia: If Power Plant Is So Valuable, Why Is FirstEnergy Seeking to Transfer All the Risk to Ratepayers?
IEEFA Update: A Case That Suggests Regulators Are Tiring of Campaigns to Bail Out Failing Power Plants
IEEFA Update: In Ruling Against Another Bailout Scheme by FirstEnergy, FERC Strikes a Blow Worth Hundreds of Millions for Ratepayers