The over-arching message of last week's Energy Finance 2015 conference is that market trends are fostering conditions ripe for major investments in renewable energy and away from fossil fuels, according to a report on March 20 by SNL's Amy Poszywak. The conference, co-sponsored by the Institute for Energy Economics and Financial Analysis (IEEFA) and the NYU School of Law Institute for Policy Integrity, took place at NYU from March 16 through March 19. Attendees came from 17 countries and 30 states, plus the District of Columbia and Puerto Rico.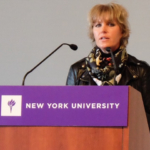 Poszywak cites a key comment by Deborah Lawrence, founder of Energy Policy Forum and a financial consultant to IEEFA, who pointed out that wind and solar are technologies, rather than fuels. "How many of us think oil and gas prices will go down and stay down over the next 20 or 30 years? Nobody. So you're going to have inflationary pressure on the economy, whereas with renewables you avoid that," she said. "I think that's what's going to push renewables over the next decade."
Excerpts:
" With the view that volatility in fossil fuel markets is at an all-time high, creating global uncertainty around the world's energy future, the Institute for Energy Economics and Financial Analysis argued this week that there has never been a clearer argument for increased adoption of renewable energy."
"'The markets — oil, gas and coal — are all in flux right now. Some of the flux is cyclical change that we've seen before, and some of it we've never seen before,' Tom Sanzillo, IEEFA's director of finance said March 16. 'So every country has to now make future development choices with a lot of unknowns, and that's where a lot of our opportunities come in.'"
"'If the cost of debt and equity for renewables continues to decline and the cost of debt and equity for fossil fuels continues to increase, the financial markets will very rapidly shift huge amounts of capital,' [IEEFA Director of Energy Finance Studies, Australasia, Tim] Buckley said. 'The risk profile for fossil fuels has gone through the roof.'"
In a panel presentation about the failed U.S. coal plant buildout, IEEFA Director of Resource Planning Analysis David Schlissel pointed to a global study released March 16 by the Sierra Club, which found that for every new coal plant built since 2010, two have been shelved or canceled. In the U.S., more than 77,000 MW of coal generation has either retired or is slated to retire.
Full article (subscription required).