Simon Evans for Carbon Brief:
Global investment in coal-fired power plants is set to decline "dramatically" after passing an all-time high during the past several years, says the International Energy Agency (IEA).
That's one of the most striking messages from World Energy Investment 2017, published today. The report, now in its second year, offers a comprehensive picture of energy investment from fossil-fuel extraction through to transport, energy efficiency and power networks.
The IEA report is not only backwards looking, reporting money already invested. It also offers a glimpse of forthcoming trends, by reporting the value of decisions taken to invest in future.
Overall, investment fell again last year, as the oil-and-gas sector continued to cut back in response to low prices. Steady investment in renewables, along with falling costs, saw 50% more capacity being added in 2016 than in 2011. But gains for low-carbon wind and solar are being offset by declines in hydro and nuclear.
Carbon Brief has seven charts with the key messages from this year's energy investment report.
Fossil fall
For the second year running, global investment in new energy supplies fell steeply, the IEA report says. This decline was mainly due to the oil-and-gas sector, where investment has fallen 44% in two years on the back of the collapse in oil prices.
These cuts have seen fossil fuels' share of investments in new energy supplies fall below 60% for the first time, as the chart below shows.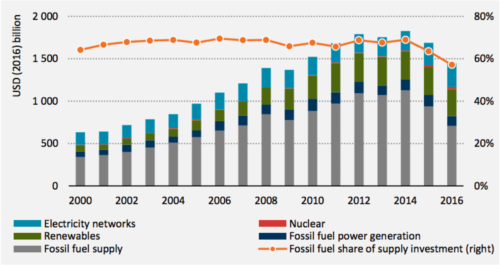 Global investment in energy supply, by fuel, 2000-2016 (columns) and the share of investment going towards fossil fuel supplies (orange line). Source: IEA World Energy Investment 2017.
Renewable investment is delivering ever more bang for its buck. While inflation-adjusted investment fell 3% between 2011 and 2016, the amount of capacity added rose by 50%, reaching a new record, and the expected power output increased by 35%.
The most dramatic cost reductions have been for solar, down 20% in each of the past two years, and batteries, down 19% per year for five years, with another one-third reduction expected by 2020. Investment in grid-scale battery storage is beginning to take off, rising six-fold in five years to nearly 600 megawatts (MW) in 2016.
Full article: Seven Charts Show Why the IEA Thinks Coal Investment Has Already Peaked